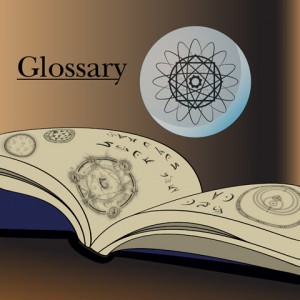 Psionics Institute's Glossary of Energy Working Terms: S – Z
Sang
A.K.A. Sanguine; Denotes a Vampire that needs blood to sustain itself.
Scanning
A.K.A. Reading; Looking at the Subtle body of an individual and gleaning information from it.
Sealing
Binding an entity/object/place in a way that it contains the powers it might possess.
Sexual Feeding
The idea of consuming energy through direct or indirect sexual contact and/or arousal from a person for the purpose of maintaining one's own health and ability. Subcategory of Feeding.
Shaman
Practitioner of a Shamanic Tradition.
Shapeshifter
Someone who practices shape-shifting.
Shapeshifting
A Shamanic technique of channeling a totem spirit to enhance one's own abilities.
Shield
Energy imbued with an intent to perform a certain function, programmed(intended) to keep someone or something from entering or being able to go pass through a certain area or space.
Shield Piercing
The process of piercing and/or destroying a shield.
Shifting
A change from one paradigm to another, usually mental/spiritual.
Sparring
Practice fighting within the Astral Realm.
Spirit
A.K.A. Soul; This is the essential part a person that makes them who they are. Soul are what reincarnate from one body to the next.
Subconscious
The background processing unit of the mind.
Subliminal
Meant to only be picked up by the subconscious mind.
Supernatural
"Above Nature"; Instances beyond the scope of natural laws as we know it.
Synchronicity
How synchronized something is to another thing.
Telekinesis
Moving things with one's mind.
Telepathic Shield
Shields that are designed to block out the conscious or unconscious broadcasting of thoughts that may come in range of them. Subcategory of Shield.
Telepathy
Mental communication without the use of words or other indicators.
Teleportation
Instant or near instant movement from one point to another without traversing the space in between.
Therian
Short for Therianthrope; A person who has an animal soul and a human body.
Tracing
Following an energy trail or signature to find someone or something in the Astral.
Trance
A mental state of receptiveness.
Vampire
Someone that requires the blood or energy of another individual, without killing them, in order to maintain their own health and abilities.
Veil
The barrier between planes.
Visualization
Process of creating a mental image of what you want to happen.
Void
A plane of nothingness; it is a place that begins and ends all things.
Weaving
Manipulation of the weave of reality.
Will
It is you; It is your conscious, it is your power, it is your expression on the world around you. It alludes to every action you impress on this and every other world.
© 2012 Psionics Institute